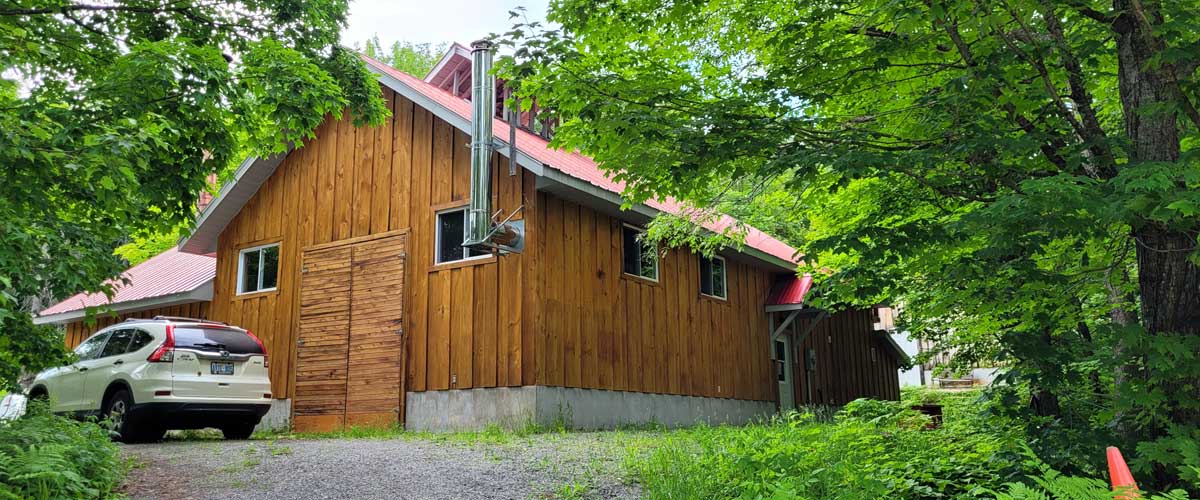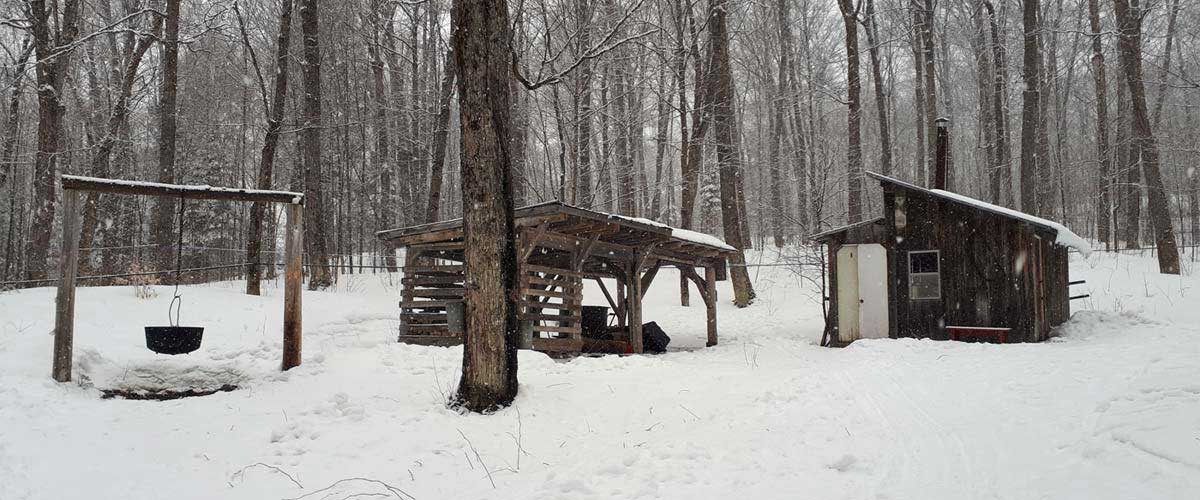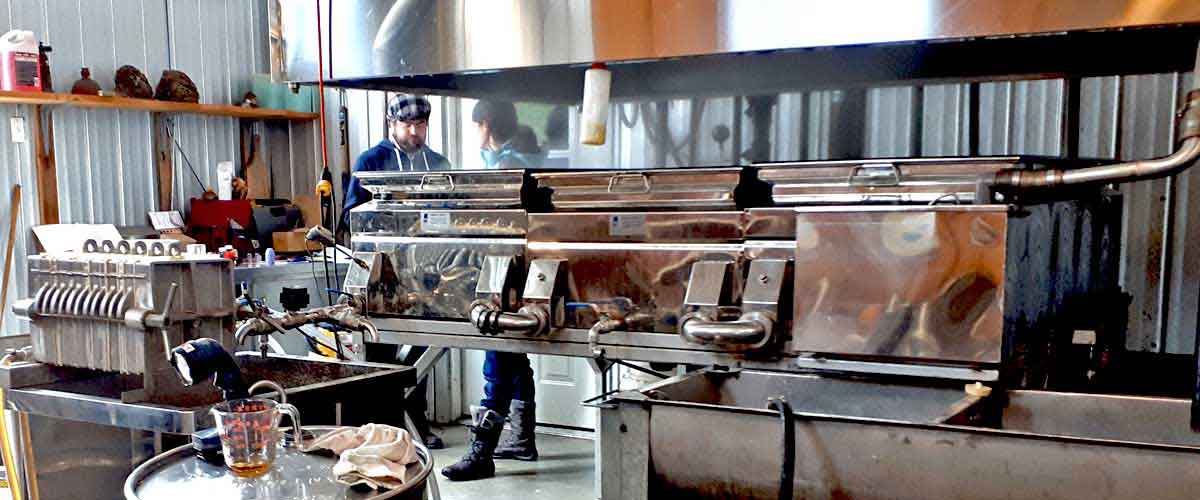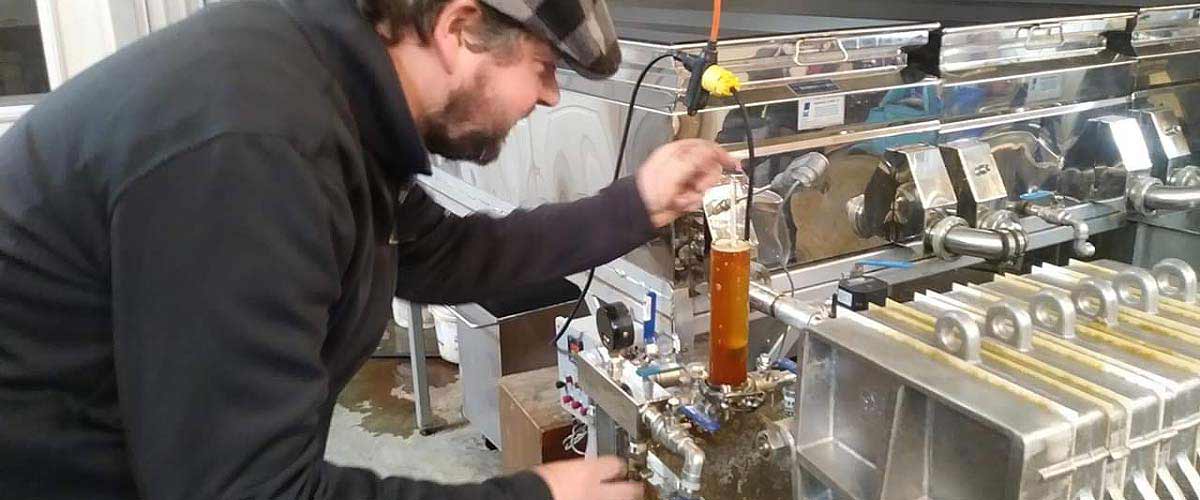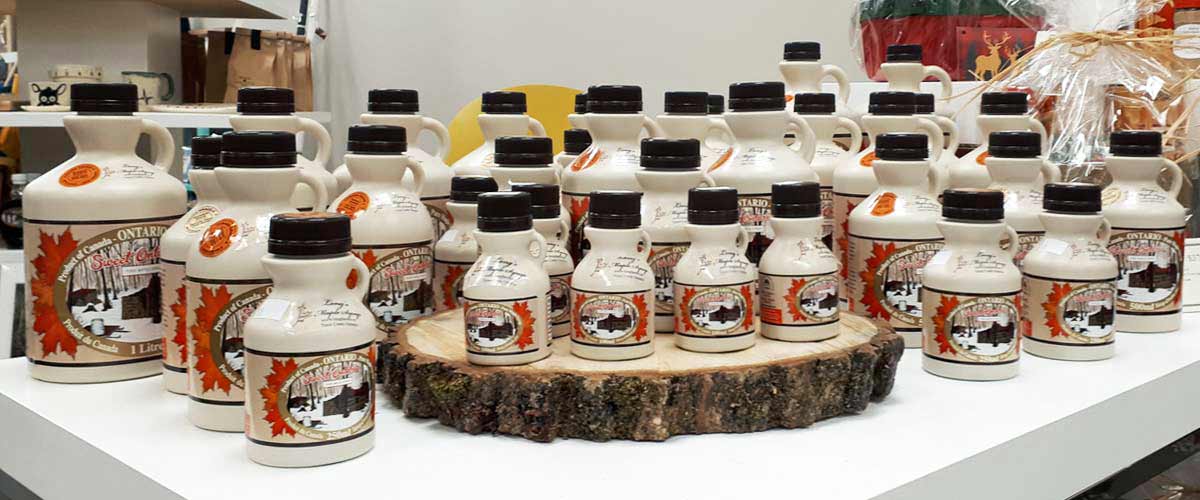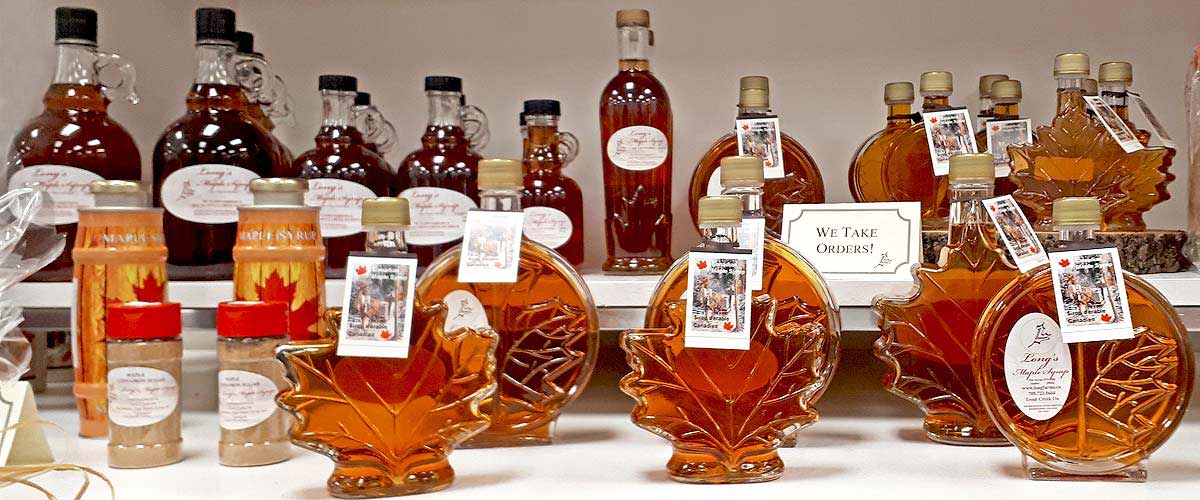 Our 100% Pure Canadian Maple Syrup Products
---
Visiting Our Sugarbush
When Spring is in the air it is time to make plans to visit the Long's' Maple Sugarbush. The season opens when the sap starts running, usually early March to late April.
Long's Maple Sugarbush is located in Laurier Township just south of Trout Creek, Ontario. There is much to see at Grandpa's Old Sugar Shack and the Modern Evaporator House.
If you are so inclined, you are welcome to hike the trail to the top of the bush, or the trails through 200 acres of sugar maples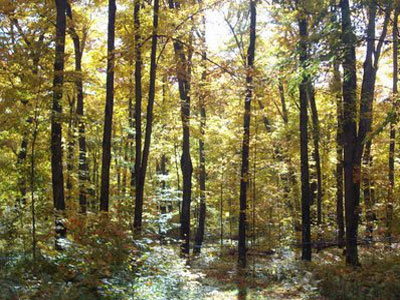 ---
Groups Visiting our Sugarbush
Please Note: We are unable to give tours for the 2023 season but check back in the Spring of 2024.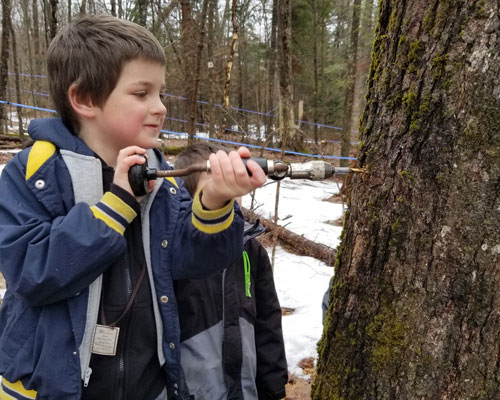 Tours can be morning or afternoon. We are more than just maple syrup producers. We are all about showing you and yours around the sugar bush, introducing you to our modern pipeline collection system and letting you enjoy the smells and tastes of the boiling-down process
Younger children receive just the right amount of fun and information as Jo-Ann leads them through the Old Sugar Shack. Children will tap their own tree, learn about collecting and boiling sap, and wild life in the bush. The tour ends with a sample of maple syrup and taffy on the snow.
Older children and adults are encouraged to learn about all aspects of the old way as compared to the modern version of making maple syrup.. And, of course, their tour, too, concludes with a sample of maple syrup and taffy on the snow as well.
---
Buying Long's Maple Syrup Products
For the genuine 100% pure product, look for "Maple Syrup" or "Pure Maple Syrup" on the label.
Our maple syrup products are available for sale all year round. We store the syrup in the stainless steel drums and it is hot-packed fresh as needed.
We bottle syrup in sizes ranging from 125 ml to four litres, packed in glass, cans and plastic containers.
We like to offer new products periodically but regularly have in stock your old favourites: Maple Granulated Sugar, Maple Butter, Maple Candies, and Maple Candy Floss!
---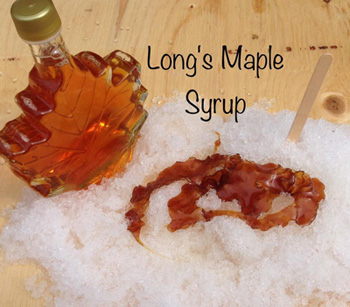 ---
Maple Gift Baskets and Boxes
Maple Gift Baskets and Boxes make great gifts for family and friends and come in a variety of prices since you get to choose the products you want included. These are perfect for traveling business people who like to thank a host or colleagues with a gift unique to our area.

We have a variety of suggestions for wedding, anniversary and party favours.

Gift boxes are easy to ship and to make it even easier for you we can do the shipping. Email us for sample pictures and prices and once you have chosen the box you want – we wrap, add the gift tag and do the mailing. Most gift boxes can be shipped anywhere in Canada for $25.00 and in Ontario for $20.00
---
Making the Syrup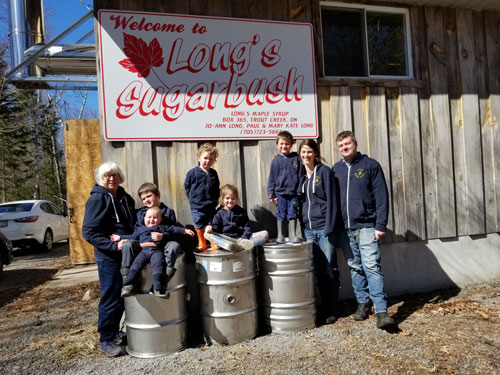 The sap flows through the pipeline to the sap storage building where four 1400 gallon storage tanks can fill surprisingly quickly when the sap run is at its height. When the time is right, the sap makes its way through the Reverse Osmosis machine, where two-thirds of the water is removed.
The concentrated sap is then pumped to the Evaporator House, through a pre-heater and into the stainless steel pans where it is boiled to 67 degrees brix.
Several hours later, the hot, delicious finished syrup goes through the filter press, and is then moved to the bottling unit, where it is packed at 185 degree F. or put in 34 gallon stainless steel drums for later use.
Up to 40 litres of maple sap are needed to make 1 litre of maple syrup!
---
Grades & Colour Classes
We are federally inspected so our syrup is Canada Grade A
Canada Grade A – Golden (delicate flavour)
Canada Grade A – Amber (rich taste)
Canada Grade A – Dark (robust taste)
For table use, such as pouring over pancakes or ice cream, choose Golden or Amber
For cooking, use the stronger maple flavoured Amber or Dark.
Maple syrup is sold in containers ranging from 250 ml to 4 Litres.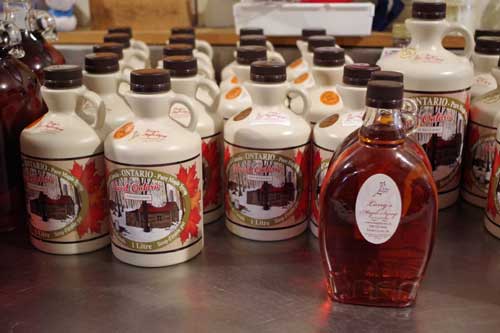 ---
Storing
Unsealed containers of maple syrup should be stored in the refrigerator.
Maple syrup can also be frozen and refrozen for up to one year. Just pack with 1 inch of head space in sealed containers.
Allow the syrup to thaw about an hour before serving so that it returns to a pourable consistency.
If any mold growth appears, discard all the maple syrup immediately.
---
Powassan Maple Syrup Festival
April 29, 2023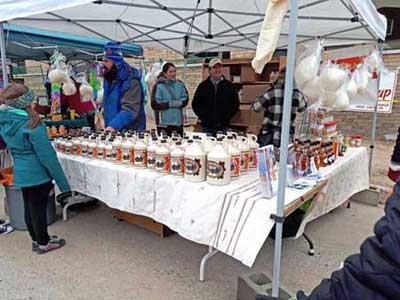 Every spring the town of Powassan closes its Main St. for the one-day Powassan Maple Syrup Festival.
Long's Maple Syrup, one of the founding maple syrup producers, will be at our usual booth at the corner of Main and King Streets, selling all sizes and shapes of maple products.
For more festival information click here.