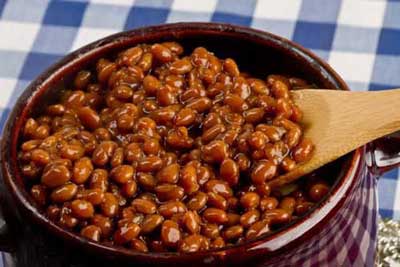 Instructions
Place beans in large saucepan, cover with water and bring to a boil.
Simmer for 2 minutes.
Remove from the heat and let stand, covered, for 1 hour. Drain.
In a small bowl, combine maple syrup, chili sauce, chopped onion, salt and mustard.
Place half the beans in a 2 quart (2 litre) casserole, top with diced bacon, then remaining beans.
Pour syrup mixture over beans.
Add boiling water.
Cover and bake at 300°F (150°C) for 6 to 7 hours, adding more water as needed to keep beans moist.
Makes 8 servings.