PREPARATION TIME: 15 minutes
COOKING TIME: 20 – 25 minutes
SERVES: 6
Ingredients
Maple Toffee Sauce: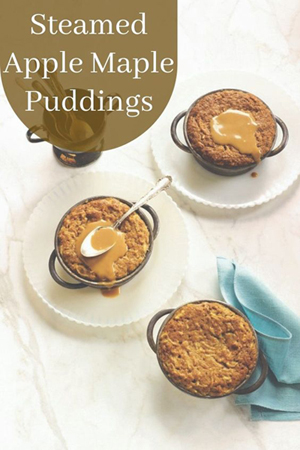 Instructions
Butter six 3/4 cup (175 ml) ramekins: set aside
In a large bowl, beat together butter, sugar and maple syrup until smooth. Beat in eggs, one at a time. Stir in maple extract and apple.
In a separate bowl, combine flour, baking powder, baking soda, salt and nutmeg. Stir into apple mixture until combined.
Divide batter between ramekins. Place ramekins in 13″ x 9″ (3 L) baking dish. Pour hot water halfway up the sides of the ramekins.
Bake in 350°F (180°C) oven for 20 to 25 minutes or until toothpick inserted in centre comes out clean.
Remove to wire rack to cool.
Maple Toffee Sauce:
In 4-cup (1 L) glass measure, whisk sugar with cornstarch; whisk in milk until smooth.
Microwave, uncovered, on High for 2 to 3 minutes or until boiling and thickened, whisking twice during cooking.
Stir in butter until melted, then maple extract. Serve with puddings.
Tip: Pudding can be refrigerated for up to 2 days.
Nutritional information