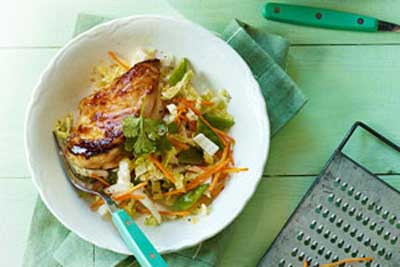 Instructions
In a resealable freezer bag, combine maple syrup, soy sauce, sesame oil and garlic. Set aside 1 TBSP (15 mil) of the marinade.
Add chicken breasts to bag.
Refrigerate for at least 30 minutes or up to 8 hours.
Remove chicken from marinade, discarding marinade.
Place on greased grill over medium-high heat 375°F (190°C).
Grill, covered, turning once, for 12 to 15 minutes or until no longer pink inside and meat thermometer registers 165°F (74°C). Brush with reserved marinade.
Napa Salad:
In a large bowl, whisk together vinegar, oil, maple syrup, sesame oil, and salt and pepper to taste.
Add cabbage, snow peas and carrot; toss to combine.
Serve with grilled chicken.