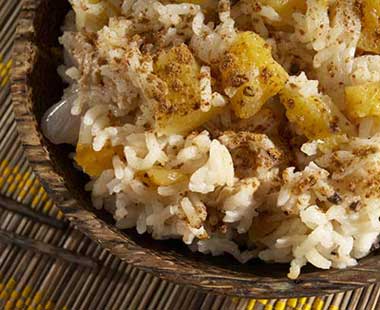 Instructions
Wash rice by rubbing between palm of hands. Drain all water.
Add correct amount of water to rice: 1 cup (250ml) long grain rice to 1½ cups (475 ml) water will yield 3 cups (750 ml) of rice.
Any temperature of water will do. Do not add salt or butter while cooking rice.
Cook rice in saucepan over high heat, uncovered, until tiny holes or craters form over surface of rice, then switch to low head and cover tightly.
Let simmer for 15 to 20 minutes. Do not take lid off. This is the most critical time.
Microwaving Rice:
In 2 Litre casserole, combine 2 cups (500 ml) water and 1 cup (250 ml) long grain white rice. Cover tightly.
Microwave on high for 10 minutes.
Stir and cover. Adjust power to medium high and microwave 5 to 7 minutes longer, or until water is absorbed.
To make rice whiter and fluffier, add 1 teaspoon (5 ml) lemon juice to each 4 cups (1 L) of water.
Combine rice with pineapple, maple syrup, green pepper, butter, soya sauce and mustard.

Toss lightly and serve warm.

Delicious with any meal.